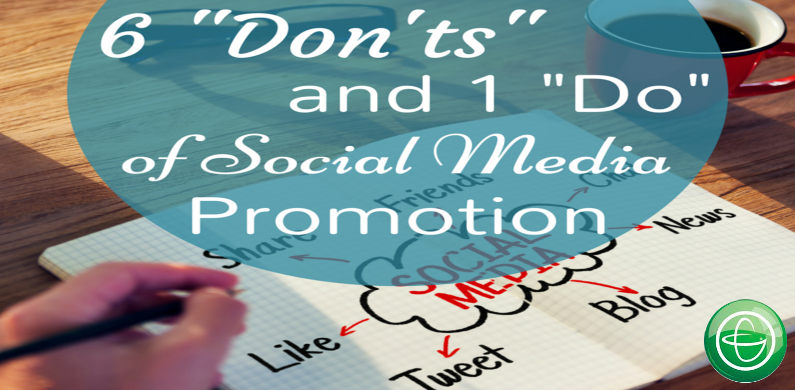 Social media marketing has become one of the most effective tactics for businesses to reach, educate, and engage with their target market. The strategy behind social media efforts for businesses is extremely important in getting the ROI and bottom line results you are looking for from this marketing method. The following list indicates some "dos" and "don'ts" of social media promotion in order to increase your success rate.
Don't Link Bait.
What is link baiting? It's using a misleading title or information to get someone to click on a link. An example of this might be someone saying "Become a millionaire" and linking to their GDI site. This information is false and used to get someone to click. Be truthful in all the links you share and try to be descriptive and concise with the text you use surrounding a link.
Don't Promote at the Wrong Time.
Where in the country are your customers, downline, team members? Try to time posts to when they might be awake, online ready to click. You can also use trial and error to identify the best time to post your content. If your post isn't getting any traction, keep trying new time slots until you find you get the most clicks. Try to keep your posts to that time of day to ensure the most people see your content. If you manage your Facebook presence using a page, you can look in your Insights to see when your fans are online. You can also use Twitter Analytics, which is available to all users, to see what time your tweets get the most interaction.
Don't Post Too Often.
You've seen this before: one user who fills up your Twitter or Facebook feed with a series of posts. Often times, this is a sure way for that person to get you to unfollow or unlike their page. Don't do this. While posting multiple times in a day is OK for most networks, try not to post back to back. People may unfollow you if you clog up their feed or just assume you're a bot.
Don't Post Too Infrequently.
While you shouldn't post too often, not posting enough is also an issue. People may find your Facebook or Twitter profile while searching for information on you or your business, if they click on your profile and see that you've haven't posted in a few weeks, they may think you are no longer active. Try to post at least once a week so it's obvious to those who find your page that your are active and responsive.
Don't Spread Yourself Too Thin.
There are many social networks out there. In fact, it seems like there is a new network debuting each day. You don't have to be on all of these networks. Find which networks you like the best and where your customers spend their time. These are the networks that will give you the best return on your time.
Do Be Yourself.  
While you want to put your best self forward while promoting on social media, you do not need to create a whole new persona. People can hide behind fake profile photos and names, don't do this if you want to build your team and you want customers to trust you. Be genuine online and present your real self when possible. Social media is about relationships and it's hard to build strong ones when you are pretending to be someone else.
There is seemingly endless opportunity to generate new business via social media promotion efforts for B2B businesses, B2C businesses, and entrepreneurs alike. Make sure you don't miss out on success by following the social media promotion tips listed above.
Looking For a New Affiliate Marketing Opportunity? Click Below to Learn About GDI!