We've posted before about ways your LinkedIn profile can help y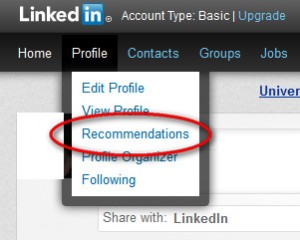 ou grow your business, but did you know it can also help you manage your reputation? One LinkedIn feature does just that, and though it may take a little extra work, the benefits can be huge. That feature is the recommendations feature. Recommendations on LinkedIn appear within your profile and can come from anyone who can vouch for your work at a specific job or business venture. These recommendations show proof of your work and abilities and help your profile stand out.
So how do you get a recommendation? Log in to your LinkedIn profile and then navigate to the Profile tab. Here you will see a drop down that includes Recommendations. Once you click on Recommendations, you will see a listing of your positions and work past and present. Select a position and a coworker who can has the knowledge to endorse your work at that company. This recommendation will now appear on your profile. It's important to connect with other GDI affiliates on LinkedIn and your team members so fellow affiliates can recommend you and share the success they had with you.
For a step by step guide to recommendations, visit LinkedIn's FAQ on the subject.