GDI gives you the marketing tools to build your business and generate Income for Life. Social media allows you to take many of these tools one step further. Learn how you can combine GDI's marketing tools with social media to share your business with new networks and build your downline.
Your Website and Social Sharing
Your website can be your ultimate marketing tool. It is the place you can share information about yourself, your business and how to get started with GDI. Building a functional site is key, but after that it's all about how you share it. A great site doesn't matter if no one is seeing it. That's why it's important to share your site on your social networks. You can simply add you site address to your profile information on Facebook, Twitter, YouTube and LinkedIn. You of course can also share your site in tweets and updates when you've got great content to share. Encourage more visitors and views to your site by adding a ShareThis button, giving anyone who visits your site the power to share it with a click of a button.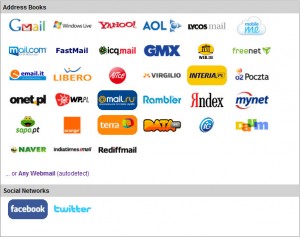 The Inviter and Facebook and Twitter
The Inviter is a great tool to share your website with your current contacts. If you're a basic member, simply input the email addresses of people you would like to check out your page and learn more and GDI does the rest of the work for you. Ev
en better if you're a premium member, the Inviter can grab email addresses right from your personal email account, allow you to decide which people you want to invite and send the emails out for you. When it comes to social networking, the Inviter can help you compose a post for Facebook or a tweet inviting everyone to check out your website, instantly.
Webinars, Videos and Social Media
GDI knows the power of video, which is why our 7 Minute Movie is a great way to market your opportunity. We also share many other videos from webinars to tutorials, you can find what you need in video form from GDI. If you find one of our videos helpful, why not share it? Click the "share" button at the bottom of any of our videos to share on Facebook, Twitter or wherever you like.