Social media is designed for sharing, whether you're sharing a news story, pictures, or you're your location, there's a site or an app to help you do that. That's why social media is a perfect fit for affiliate marketing where you are always sharing your opportunity. Take advantage of social media and social sharing.
Facebook Sharing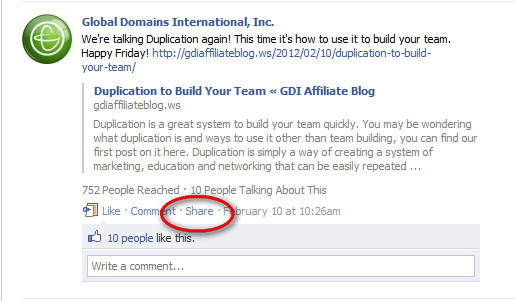 Facebook has recently unveiled a new feature that allows you to quickly share status updates, photos and links that you or someone else has posted. When you share a great post or a good link, encourage people to click that little button to share it with their friends, giving your more exposure and more traffic. Likewise, don't be afraid to share a great post by someone else. If you see something helpful, share it!
Share Button for WordPress
You see it at the end of every single one of our blog posts: it's the ShareThis button. This is a WordPress plugin that you can easily add allowing others to share your content.

When you install the plugin, it will automatically populate the Share This button at the bottom of each of your blog posts. With ShareThis, your visitors can easily link to and share you blog post on Facebook, Twitter, through email or any number of social bookmarking sites. It makes sharing easy and takes a few minutes to install and seconds to use.
Share Videos
Video is important to affiliate marketing as we've talked about here and here. So why not share your video you've spent time making. YouTube allows you to share videos simply with their share button. You can even easily embed videos to your website, just click share and an embed link will appear. You can share any video, so if you see a great webinar you want to share with your time, simply click share to get the short link.