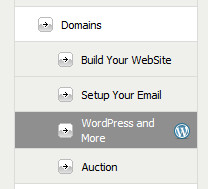 GDI offers ready to use plugins for your website. All you need to do is navigate to WordPress and More in your Members Area and choose which ones you would like to turn on. Read on to learn a bit more about each plugin.
WordPress
WordPress is a free open source blogging software that has become one of the most popular and prominent content management services on the web. In WordPress.org's own words: "The core software is built by hundreds of community volunteers, and when you're ready for more there are thousands of plugins and themes available to transform your site into almost anything you can imagine. Over 25 million people have chosen WordPress to power the place on the web they call "home" – we'd love you to join the family."
Forum
The forum plugin is powered by phpBB, which provides the tools to create online communities. phpBB says, "Millions of people use phpBB on a daily basis, making it the most widely used open source bulletin board system in the world. Whether you want to stay in touch with a small group of friends or are looking to set up a large multi-category board for a corporate website, phpBB has the features you need built-in."
Gallery
The gallery is powered by Coppermine and gives you a space to upload and share photos and albums. You can create private albums, albums that require registration to view or public albums. Viewers of your gallery can also rate pictures and leave comments depending on how you adjust the settings.
Drupal
Drupal is an alternative way to build you WebSite. According to their site, "Drupal is an open source content management platform powering millions of websites and applications. It's built, used, and supported by an active and diverse community of people around the world… Use Drupal to build everything from personal blogs to enterprise applications. Thousands of add-on modules and designs let you build any site you can imagine