WordPress has many features and options. So many, that it is easy to get a little overwhelmed as a newbie to the blogging platform. There are a few simple features that can help you best take advantage of WordPress. We share them below.
Widgets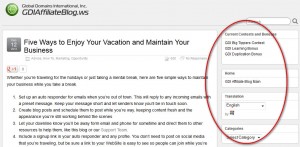 What is a widget? It's WordPress's name for any special feature you can add, adjust, or tweak within their platform. Examples of widgets might be a calendar, a drop down list of categories for your posts or just space for some HTML coding. The GDI Affiliate Blog takes advantage of widgets—everything you see on the right-hand side of the blog is a widget from past posts to our current Facebook feed. Some blog themes have widgets already built into them. To see what widgets you have, add more and edit them, log in to you blog and navigate then to Appearance>Widgets.
For a more in-depth explanation of adding a widget, see our video tutorial on it HERE.
Scheduling
WordPress allows you to create posts and set when you would like to publish them. If you're going to be away from your blog or just like to stick to a schedule, you simply edit the date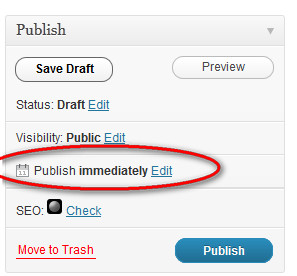 and time when you would like you new post to go live. Then click "Schedule" which will appear in place of "Publish" and your post will be waiting in the queue ready to go on your set date.
 Easy Embedding
Embedding YouTube videos into your WordPress posts is very easy, and requires no HTML knowledge. To add a YouTube video to a post, navigate to the video you wish to add on YouTube. Then click Share>Embed just below it. A code will appear in a box, copy that code. Now head back to the post you're creating and click the HTML tab at the top of the edit window. Now paste your code where you would like it to appear in the text. Update your post to save it and preview. Your video will be embedded and ready to play.
What WordPress features are you favorite?