Facebook is in the process of unrolling out timeline for all of its pages. What are the new features and how do you take use and interact with them? We share them below.
This new feature allows you to pin a post to the top of the timeline, meaning that post will be pinned and remain the top post visitors see when they visit a page. The pinned post will stay in this position for 7 days, and then will return to its place on the timeline based on the original date it was pinned.
Change Story Dates
Found in the top right hand corner of the post, under the "Edit or Delete" options, you can now change the date for which your post will show up in the timeline. This can be helpful for sorting posts or moving posts deeper into the timeline.

Highlight a Post
In timeline, posts and updates are shown across two separate columns. When you highlight a post, the post will expand across both columns and show in a larger font. This post will stay highlighted for 7 days and then will return to a normal post in the timeline. This is a great tool for ensuring important updates are front and center.
Timeline History
Timeline history can be seen on the right hand side of the page or accesses from the toolbar at the top of each page. Timeline history is sorted by years and allows you to go back and see posts from previous years and even company information from before Facebook was even around.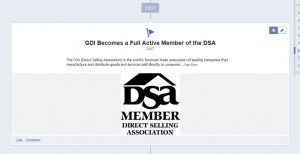 Timeline Milestone
Timeline milestones allow you to go back and add dates important to you or your company that will then show up in your timeline and timeline history. As you can see from our page, GDI has shared information from our history and important past events in our milestones.
Highlights
Clicking on Highlights allows you to sort posts in a way you would like to see them on the timeline. Highlights is the default was a page shares its posts, but you can sort by Posts by Others, Posts by Page and Friend Activity to ensure you're getting the information you need.