Affiliate marketing can also be referred to as network marketing for good reason: you're building a network. Look at the image to the right and notice how it's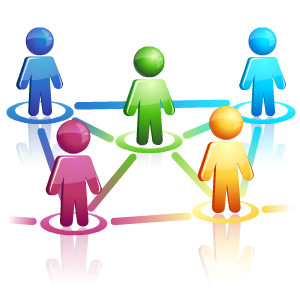 connected. Each person is connected to the person in the middle, right? That person is you. How does this play into your business? Here's how it should: each person in your network is connected, but you are the common thread. This means that everything that goes on in your network comes back to you. Try to build your downline with a few not-so great people for a quick commission? That will come back to you and start to break down that network. Build your network with people joining GDI for the right reasons? You will all succeed.
To build your downline and network effectively, you need to build it with quality people who have the same goals as you. This will require a little extra work. Instead of seeing your downline as a way to gain income, see them as your team. When they succeed, you succeed. Your downline doesn't exist just for you to earn income, but to help each member of your team earn income. Each time you consider a member for your downline, interview them. Get to know them. If you go the extra mile, this person will be part of your network, connected to you and helping you for years to come.