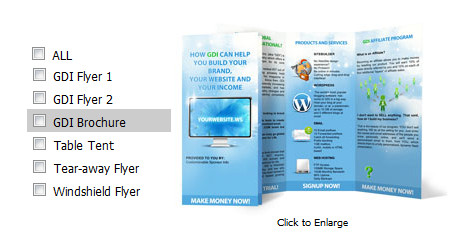 Everyone is pressed for time. Maybe GDI is your third priority after your full time job and your side job. Maybe GDI comes after work, dinners and sports practice, so you only have a little time for your business each week.  But you still want to succeed with GDI, right? Having the right marketing tools can help you succeed no matter how much time you have to give to building your business.  The right marketing materials are eye-catching, engaging and shareable, but who has time for that? You do.
GDI offers its very own Marketing Kit rich with brightly colored, professionally designed marketing materials. We've taken the time to design materials you can easily personalize, print out and share. We offer a brochure, multiple flyers, table toppers and business cards. It's all free to you as an affiliate basic or premium. All you need to do is log in to your account and navigate to Marketing Kit. Next, choose the materials you want, print them in high quality and you're ready to share your opportunity. Maybe even pass out a brochure to your colleagues at each job, or start a conversation with a flyer at your daughter's next soccer match. We've taken the work out of creating and personalizing materials, now you just need to share.
To learn about each Marketing Kit printable item click on the item in the list for a brief description.