Banners for All Sites
In our most recent post, we talked about all of the tools GDI's SiteBuilder has to offer. But did you know you can access and use some of these tools even if you are using WordPress or built your own site? You can! GDI offers banners for any and all sites to direct people to your GDI opportunity. Banners are a great way to attract attention and help your visitors navigate and click through your site. GDI offers a variety of banners from fun to professional to meet your needs. These banners are also great if you are using your GDI site for personal reasons, but still want to encourage people to learn more about the GDI opporutnity or join your down line. Simply place a banner on your personal page to get people to your sponsor page.
Add a Banner
To add a banner to your site, log into your Members Area and click on the link that says "Banners" in the left hand navigation. Select the banner or banners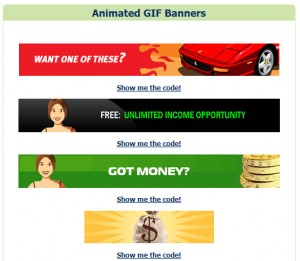 you would like to use then simply click "show me the code", highlight the HTML code, and copy it. Then, while editing your web page, just paste the code in where you want it to appear. All the codes listed with the banners have already been personalized for you.
Check out some of what we have to the right. To see even more and see out animated banners, log into your Members Area.